Friends, blogging and life lessons learned, stories from the Carr family while on the 9-month journey to today.
---
Open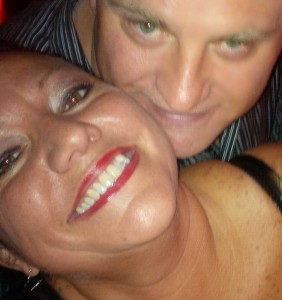 This is not the first time I have started a blog with some kind of apology or reasoning, for being a few months behind, on what started as a weekly look behind the Carr family curtain. I can honestly say that I miss it. I miss the open-eyed awareness I approached day-to-day life with, while I was always looking for something to write about. It has been more than 9 months since I have written a blog, so it's time. Time to lift the curtain. Plus there have been a few people on my list of supporters that have been dropping hints and pretty much giving me a hard time about not doing it. So, here we go!
Friends
Family is important. But, you can't pick them. They are yours whether you want them or not. But, friends however, you are completely in control of. Over the years, Nathalie and I have been very lucky in this regard. Blessed with many great connections and people that have breezed into our lives, for whatever reason, making lasting impressions. Some have breezed out, but the truth is that we could still drop ourselves on a deserted island with any of them and be right back where we were.
I like to think that it's an "us" thing, as in we are the cool ones, and there may be truth to it, but I think the fact steams from us being pretty much the same, no drama, easy going people we have been most of our lives. We can be loud and fun and we can laugh or cry with the best of them, but we are always true to us.
The realization I have come to this week, thanks to a conversation with one of the true friends, is that we do have a finite amount of time in life, and it would make the most sense to maximize the amount of time you spend with the people that most reflect this thinking. It may even have some kind of time warping, life extending friendship powers, I am not sure, but finding people to hang around with that approach life like this somehow makes the time you spend, that much more rewarding.
The Vase
One of my favourite stories from the past few months involves Julia, our Chief Household Comedic Relief Officer. We have been power watching a number of popular shows this summer. Son's of Anarchy, Orange is the New Black and Mad Men for short, and it was during one of the Mad Men episodes that Julia had something to say. Now the show is set in the 60' and the 70's and aside from the very interesting look into the world of advertising, it is also a look at an era that I am fascinated with.
In this particular episode, a newly married husband and wife are talking about the husband NOT getting the promotion he wanted, and that she wouldn't understand what it was like, to not get something that you have wanted for a long time. The wife, one of the very strong female leads, gave up her career and life to be his wife, so proceeded to illustrate this point by grabbing a vase, and whacking him over the head. Julia sees this and says, "What did she do that for?" Nathalie explains, "The Husband said something stupid and was being an idiot and she wanted to make the point clear to him".   Without missing a beat, Julia says, "Quick hide all the vases in here… I am just protecting you Daddy!" Glad to know she's looking out for me!
Classes
So school has started, and for both girls they are settling into their new classrooms and new educational eco systems. Julia got the grade 7 teacher she wanted to have this term and had for at least a few days all the people she wanted in her class. After the day 10 adjustments, she lost a couple of people that she liked, but was, in true Julia fashion more concerned that those friends at least had some other friends to hang with in their new assignments.
Jordyn in grade 10, was excited to see her friends again, and happy with her classes and teachers. Well… mostly happy. Her only comment was that in her second period class has more than 20 boys and only her. "Even the teacher is a boy Daddy!" she said with a shake the head disgust that made me smile. Now, I'm a bit on the fence whether I think this is a good thing or not, but in the end it may just teach her some valuable life lessons. Like hopefully that 15-year-old boys are silly and she should just stay away from them? Is that too much to ask?
In closing
The last couple of weeks have been filled with some highs and lows. It is always hard around this time of year for us, but more than the beginning of a semester and start of school, and the end of the summer and the season change and the anniversary of my Mom's death, this year, I have had to deal with a few new things that emphasize change. A couple of weeks ago, one of the most inspiring retired faculty members I have known passed away. I will be writing more on Ron Lowe in coming weeks. This week, one of the guys I have been working with the longest at the College had his retirement party. However, nothing illustrated change and the fact that it is gonna happen whether I want it to or not this week more than a texting conversation I had with Jordyn, so today I close the blog with an edited transcript:
Daughter, "Dad if I dait a gut how many years apart do we have to be 2 or 1"
Dad, "What??? Please ask again, I don't understand what you are saying"
Daughter, "If I dated a guy how many years apart do we have to be 2 years apart or 1 year apart?"
Dad, "80000 years apart you have to be."
Daughter, "I don't know what that means"
Dad, "That means. I don't want you to date. Ever… But, you asked the wrong parent… Jordyn, you don't have to be any years apart. It would be better if I guy is a little older than you. But it doesn't matter. What's the age of the guy you are interested in? (Always asking the hard questions!)
Daughter, "17"
Dad, "I don't know. Ask your Mother."
Now, off to find a quiet corner to curl up and rock myself to sanity.
Thanks for reading and have a great and safe week!
Jim