Happy, Sad, Up and Down with The Crazy Old Guy, blog stories for the week that was.
---
Happy
Often, when most needed, a bit of happy news drops right onto your lap, and yesterday while on the bus home from work, I got a great phone call. How I am not going to share all the details of the story, due to the sensitive nature of it, but will say that someone that I have tried to help motivate a bit, through positive conversations and support over the last 3 or 4 years, came to the end of a long fought journey, and has emerged from the ordeal, a much, much stronger person.
It's funny how several conversations I have had this week involved this same theme. The idea that you have to have the bad with the good, and it's how we deal and regroup and get out of it, that tells a true tale of our inner person. I told the person on the phone that I would raise a glass to celebrate their great news and I will do so, not only for them, but also to usher what I think will be the great rising of the positive tide.
Crazy old guy
As a teacher I am proud to have made some connections with students over the years. I count among friends, many of my grads that have stayed in touch. I follow their lives, on Facebook, like some kind of a voyeuristic crazy old guy. I've watched as they have married and have had kids. I've "liked" their selfie portraits and shared their pet photos and cat videos. I have had two different sets of former students, marry and go on to make beautiful children, and it all just makes me just a little bit emotional. Just the thought that I have been, even just a small blip on their full life radar, makes me swell with pride.
One of the hardest things I had to learn, as a teacher was that not all the students approach not only production and sound, with the same excitement and energy that I do, but also they put different weight on most elements in their life in general. Coming to the realization that that was OK was a hard lesson. Knowing that many of my grads would not actually pursue Broadcasting hurt at first, but became so much more powerful the more I thought about what I do. Yes I teach commercial production, mic placement and recording techniques, but I also teach the power of positive thinking, self-evaluation and time management. It was this realization that allowed me to be a better teacher, and for that I thank my students.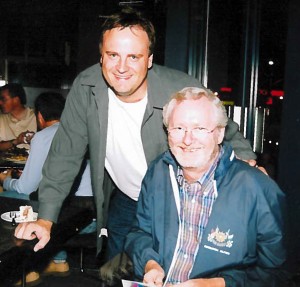 Ron Lowe
This week we had a memorial celebration for a man that made a big difference in my life. I don't think I can over sell this, but a man who without, I am sure I would not be doing what it is I am doing today. I first met Ron as my teacher in RTV111. I loved his passion and energy and his commitment to his students. His patience, was unwavering. I only learned many years later that he was not a fan of teaching that particular course. I would have never seen that in the studio class. Meticulously covering step by step, the fundamentals of the audio console and basic commercial production and the dreaded 15-minute radio show.
3 semesters later, I was back in his classroom as a bit of a TA and he could see that I had the ability to teach, even before I did. I graduated, and a couple of months after, he called me up and asked if I was interested in teaching the technical part of the first semester production class. I laughed and kind of joked with him about being crazy, and he suggested I would regret it if I didn't at least give it a shot. "Try it for a semester and we will see how you do!" he said. And just like that I was hooked. I have been so blessed to have had some wonderful teachers in my college life, but with this latest loss, the number that are gone is tragically far too high now.
Over the last few years I don't think I have done as good as a job as I should have, in staying connected with those, who in the past have made differences in my life. People like Ron. So, as a way of acknowledging it, and perhaps a way to teach me a lesson about following my own advice, I am going to challenge you the reader to take 5 minutes and touch base with someone in your life that may have made an impact. Maybe it was a teacher or a family friend or a relative that helped with a good piece of advice over your life. Do yourself a favour AND make that person feel great, say thank you today.
Thank you Ron for being an inspiration, for giving me my career and for teaching me the importance of helping others.
Things that make you…
You ever overhear something that makes you go, ummm? I take the GO bus, and love the ease of the mode of travel One day this week, I was walking to my particular bus gate, and passed a driver having a conversation with a passenger, standing outside her bus. The prospective passenger, making small talk says, "How are you doing today?" Now, first you have to understand I am a big fan of calling the answerer of just such a question, on their lying, made up, only saying fine, cause I know you don't really care, answer. I do it all the time. "Are you sure?" I will say after hearing the casher say, "fine".
But, back to the bus platform this week, the driver was honest and said, "Well, to tell you the truth, I am very tired today, didn't sleep well last night." Ummm… Ok so, now you want me to get on this bus, knowing that you haven't had a full 8 hours of sleep, driving an 11-ton, deadly weapon? I guess there are sometimes, a simple, "doing swell, thanks" is called for.
In closing
It would seem this week the blog is a little heady and thought provoking, so time to end with a little 12-year-old sass. Nathalie took the girls out for dinner on Thursday and I laughed at the conversation they had, when Nathalie sent me a transcript via text. I guess Nathalie was eating some bread and a crumb went, "down the river" as we say. Nathalie fumbled a little and pulled it out of her cleavage and Julia watched the whole thing, shaking her head she says, "You just HAD put your hand down there?" Nathalie says, "I was getting a crumb!" and she says, "Sure Sure!"
Well, heading to see if I can find my own crumbs!
Thanks for reading and have a great and safe week.
Jim