Driving, Comments and conversations from the highway with the Carr's, and the first ever vacation blog post for Week 3
---

Driving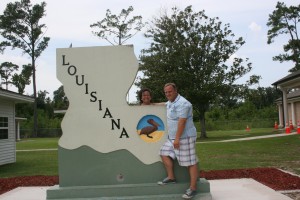 I have a confession. I like to drive on long trips naked. Well, let me be more specific, I am naked from the ankle down. It started 3 or 4 years ago on the original family road trip to Florida, when after a couple of hours in the car, I noticed that my feet started to hurt just a little, and I found that being able to stretch out my toes while driving made all the difference in the world. I just can't stop now! On long trips, I can't wait to de-shoe and let it all hang out. Wednesday afternoon, we left Ontario and pointed the car south, and hit the road. The data on the GPS says 21 hours total travel time with 2 hours of that stopped, with an average speed of 106 km per hour. I am not sure who it was that hit the "Maximum speed reached: 166 km", but I do know that when I was driving I was doing most of it with no shoes on.
Traveling
I have always loved traveling, especially with the whole family because not only are the girls good in the car, when it comes to amusing themselves but also for the most part they like learning new things about the places we visit. We missed a big family vacation last year because of getting our house, but the year before we went to Florida and had a blast stopping in Savanna, Georgia walking around downtown learning a little about the history of such a beautiful city. So when planning this trip to New Orleans to board a cruse ship, we purposely built a couple of extra days in to the itinerary so we could see the sights and hear the sounds of "The Big Easy".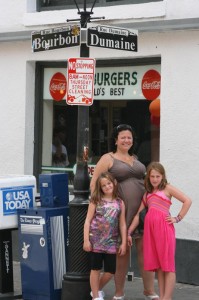 Not in Kansas
There are lots of signs around that make it VERY clear we are not at home. The people are great, so that is the same. It is hot here so I guess that is close to what we have been dealing with at home, and the humidity is only a little less then at home, so it is NOT the weather. No, the big difference between here and home has got to be the sounds. There is music playing, just about everywhere we go in New Orleans. The girls call it the "creepy music" in the hotel lobby, playing from an old player piano, and there is old school jazz playing in the elevator, and more music in the hallways, and this is JUST in the hotel.
Today, we walked up and down the narrow streets of the French Quarter and just about every store and street corner had music of some kind playing. Cajun, Zydeco and Creole with Ragtime, Jazz and Dixieland and some Gospel in there for good measure. We only have these couple of quick days to enjoy the sounds, because tomorrow, we board the ship for our first ever cruise, so for now we just have to enjoy the sounds.

In closing
The last word this week goes to Julia in true "Buglia" fashion. This trip, like any of our US jaunts, involves a good amount of US barging hunting. For the most part the girls have been good, and are actually turning into quiet the fashionistas, picking interesting clothing combinations and colour choices, all off the clearance racks. We almost made it out of the last store without one "PLEASE daddy" with the puppy dog eyes for something that that they for sure don't need. In the linen section, on an end cap looking cute and calling their names was a collection of "pillow pets". They walked around singing the jingle to each other, and acting out what must have been an infomercial they have seen a bunch of times, and it was cute. NOT cute enough for either of us to cave and actually buy one, but cute non the less. Sometimes they are good with us saying NO, and let it go, but Jordyn was not letting up. I guess she RELLY wanted one, because the arms crossed, the pouty face came out and when we finally got them to the front cash the chants of please got louder.
"Like you think that saying it one more time like that is going to make us say, Oh we didn't know you wanted it that bad Jordyn, go get one, and get one for each of your friends" Nathalie and I say, almost in unison. It goes back and forth for a bit, and then finally, with what SEEMED like the last word on the issue, Nathalie says, "If you think I am paying 20 bucks for a pillow, you may be out of your tree!" Never wanting to give up an opportunity to add her thoughts, Julia jumps in, "But, it's also a pet" and just for clarity she breaks into the jingle with hand actions, "It's a pillow, it's a PET". Thanks Julia for your thoughts on it… but the answer is still NO…
And thanks for reading and have a great and safe week.
Jim
---